RUNAWAY vs. LEARNING SECRETS
saturday, february 28th, beauty bar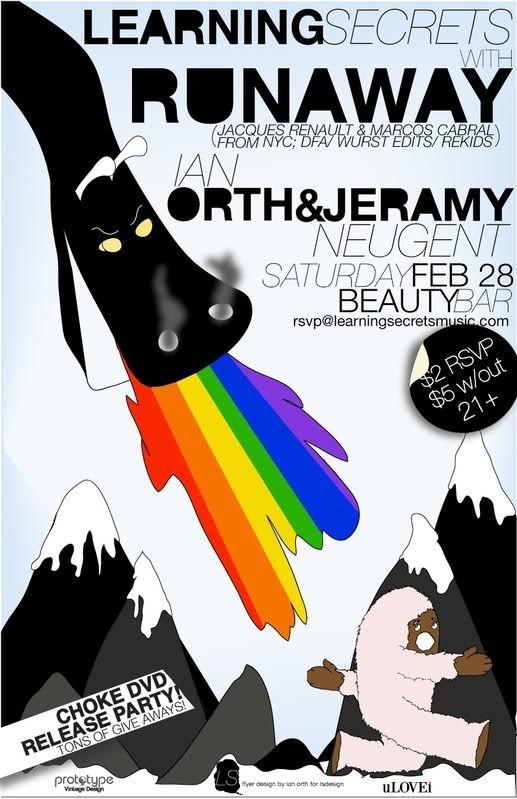 This Saturday we couldn't be more excited and honored to be bringing down one of our favorite dj/production duo's who are stomping big through the current NYC disco scene.
RUNAWAY is consistently putting out the big bangers on labels like the classy Wurst Edits, Rekids, and naturally DFA.
Their breed of house and disco is super deep, super dark, and super thick. Come with an open mind, and some feet that aint gonna quit you on the dance floor.
This is sex music, this club music, this drug music, this amazing music!
We're still taking a few RSVPs for the cheap admission price, email rsvp@learningsecretsmusic.com to make sure you get in for $2. Other wise it'll be $5 at the door, which for this night is still an amazing deal.

ALSO THIS JUST IN!
We'll be having a nice little photo booth ran by our new buddy, and that dude who snapped you at Wild Life last week...Trevor Ray Thompson!
There'll also be a bunch of giveaways celebrating the DVD release of Choke, one of my favorite movies from the summer, mostly because of my twisted look outlook towards sex. We got anal beads, a couple of books, and some dvds to give out....yeah, seriously, anal beads.
Make sure you get yourself a little preview here of what to expect from RUNAWAY

Click to listen, Download to Enjoy, Support these artists and buy their records!!!!
<>
RUNAWAY: BROOKLYN CLUB JAM
<>
RUNAWAY: AIN'T AFRAID TO BEG
<>
RUNAWAY: JANUARY CLUB MIX