FIXED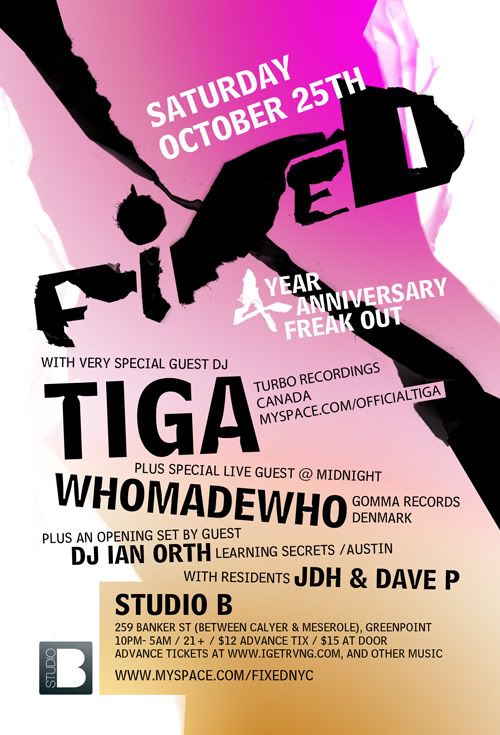 This Saturday night I'll be opening up for my buddies JDH and Dave P's party here in NYC called Fixed. It's their 4 year anniversary, and I can honestly say that its truly one of my favorite parties in NYC. I am sure I may be going out on a limb here, but it feels right to say, so i'm gonna say it. I think Fixed might be the closest thing to an OPTIMO in the states at the moment, just as far as their music policy goes. Of course I'm being absurd because there are parties like Dave P's Making Time in Philly, Eamon Harkin's Fun in NYC,  The new DFA night at Santos Party House, and um, this party in Austin called Learning Secrets, and a slew of others I'm not mentioning, but every time I've been to Fixed I leave with the same feeling I get when I leave OPTIMO. 
Regardless, Saturday is going to be totally bonkers insane. Who Made Who is playing live! I honestly thought I was never going to get to see them, they're one of my favorites and were an LS stable back during the Whisky Bar days.Tiga is DJing for something like 3 hours...and the dance floor stays open till 5 a.m.
So, if you're in NYC I hope you can make it out.
Here's one of my favorite tracks off of Who Made Who's amazing self titled debut album off the Gomma label, which came out in 2005. Their follow up called

The Plot

 is coming out in February.
Please support them, if you like the track, hunt down the full length and buy it! 
Click to listen, download to enjoy, and buy the album if you find it!