GRUPO FANTASMA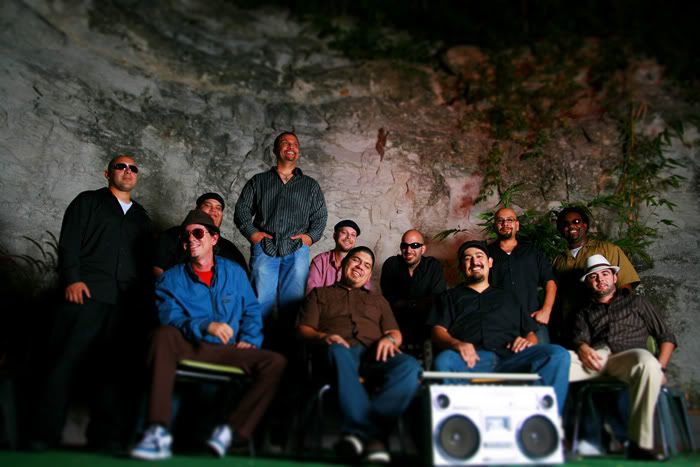 I think that we're all in agreement when I say, that though life can at times be a motherfuck of a titty-twister, when it (meaning life) is shiny and golden, it truly can make you feel like a golden god. 
Yesterday was a day like that for Jeramy and I. Not only have we now registered Learning Secrets as a legit company, something which has been a year in the making, we also got word that one of our most beloved clients...the unstoppable
Grupo Fantasma
,
has been nominated for a Grammy for Best Latin Rock / Latin Alternative album for
Sonidos Gold!!!!! 
We are, needless to say, overly stoked for them. They've had quite a year, from playing with Prince at Coachella, to hitting the Festival circuit hard this summer, to ripping up Fun Fun Fun Fest this year, to their massive New Years Eve party they're throwing at the Parish. We feel totally humbled to have been there along the way, and Jeramy worked his little apple bottom off, so i'm equally as proud of him too. 
Here's one of my favorite tracks from
Sonidos Gold
. Its a total stomper feat. the one and only Maceo Parker. Hovering somewhere between War's "Low Rider" and an early Santana slow burner, but with the class, taste, and creative spins that Grupo does so well. From their use of reverb on the snare during the drum solo, to the way the horns were recorded, to the vocal chant, to the hand claps, to of course Parker's solo, this track is the perfect example of how Grupo takes the traditional elements of Latin music and transforms them to a sound that travels through genres , picking up a fan base that includes moms & pops, deep soul music fanatics, Latin music pure-ists, and those of us who wear our jeans a bit snug around the old chestnuts. 
If you've missed them, now is the time to check 'em.
Click listen, Download to enjoy, and as always support the artist by buying their music.